Lisa Macafee
Co-Chair of Q&A: Queer Straight Alliance: An LGBTQ+ United Faculty Sub-Committee, Co-Chair of the Queer Book Club
Hello! I am passionate about serving our community. I am autistic, demi/pansexual (only attracted to people's minds; bodies are just ambulatory meat sacks to me!) and agender/non-binary. I figured I was just odd until 2017 when I found vocabulary that describes me and community of like-minded individuals. Weird to find words for yourself only in your late 30s. If I can help empower you to be more your authentic self in any way, please contact me!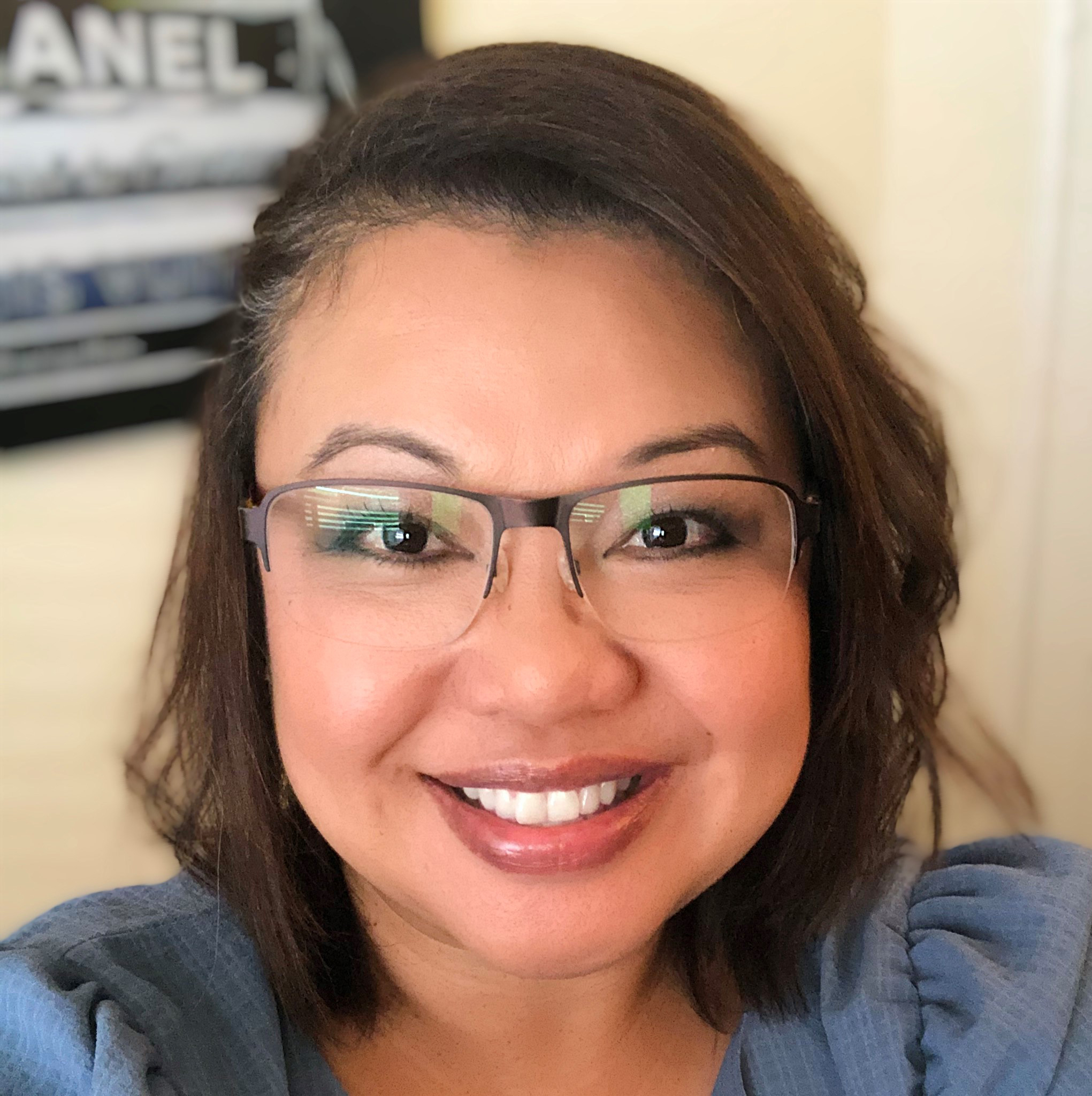 Naomi Abesamis
Director – Student Life & Leadership
I am a mother of a beautiful, fierce and strong LGBTQ+, college-aged young adult who recently came out three years ago. It was through the loving help of another FC student who came out to me and I introduced her to my daughter because my mother's intuition was telling me that my daughter was struggling inside and needed another safe person to speak to. This student gave my daughter the strength and courage to openly come out three years ago—first to me, and then to our family. I'm not perfect in this journey because I am still in the midst of transformation as a parent who is learning to be as supportive as I can for the LGBTQ+ community, and as my daughter continues to find her new voice in this world.  But I really do believe in unconditional and courageous love and having that be a reflection in all that I do as the Director of Student Life and Leadership for Fullerton College. I have been married to my husband of more than 20 years, we have two kids that we are very proud of, and one loving golden retriever. I am currently a doctoral candidate in the Educational Leadership Program at Cal State Fullerton. I love to write and do anything that stirs the mind and soul on a creative level. I am a loyal Lakers fan and I still love the Chargers even if they left San Diego!
Monique Starkey
LGBTQIA+ Liaison / Acquisitions Strawbrarian
As the resident strawbrarian, I hope to help queer students feel welcome @ our library. I co-chair both the Queer Book Club and Q&A: Queer Straight Alliance (an LGBTQIA+ United Faculty subcommittee). As a pan/demisexual, I'm pumped to start co-advising QPOC, and to assist with the LGBTQIA+ student support group. My involvement in queer advocacy began in the mid-nineties with the LGB Club at Louisiana State University (I still recall the LGB Club meeting where we transitioned to the name, "LGBTQ Club." We were like, "Hmm…what are all these new letters about?"🤔)
Amber Gonzalez
LGBTQIA+ Campus Liaison / Associate Professor & Chair, Ethnic Studies Department
Gary Graves
Professor
I am a full-time professor teaching Business, Entrepreneurship, and Creativity courses. I am actively involved in many campus roles including curriculum committee, faculty senate, and guided pathways. I have been openly gay for over 35 years, married since 2018, and partnered for over 30 years. I have been an active supporter, activist, and educator within the LGBTQ+ community. Since 2009, I participate annually in the AIDS/lifecycle; a 545-miles cycling event to raise money for education, HIV-prevention, and support through the Los Angeles Gay & Lesbian Center (www.545miles.com). I believe in helping others realize their full potential through strength-based mentoring and teaching. Anyone is welcome to approach me with questions and/or I am available if you need someone to support you. Connect with me online or in person.
Jazmin Zuniga
Web Development Specialist – Communications